The rejected American Idiot/Gilman/90's photos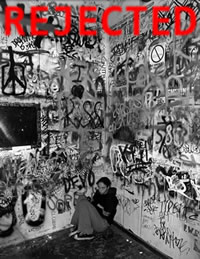 The following gallery was selected from my archives by the art director of an events planning contractor working for the Berkeley Rep. The event was the official 9/16/09 opening night of the rock opera based on Green Day's 2004 album American Idiot. The planners scanned these images from prints to disc, with the intention of projecting them large on one of the walls on the patio area while the opening night party was going on. There was a further plan to have some 20 of my framed pictures from the 90's hung. Video was interspersed with some of my images but I never saw the video they planned to use.
On the afternoon of the party (scheduled for 10pm on that night) the band did a walk-through, and someone in the band or their retinue objected to my images, and the whole plan was dumped. I was not there when this happened, so I only know what the planner told me. The unconfirmed report was that the images made someone in the band feel "sad" to see these pictures of people he may have known back in the day at Gilman, so my entire show was rejected. The planners had put in a good two weeks of work cenetered on my images, and they were devestated.
However, I think the art director made a good selection, so I'm putting it up here for your consideration.
I want to say it makes me feel sad that 924 Gilman, which has done so much for Green Day and the entire Bay Area music scene, has to struggle month to month just to pay it's bills. Green Day could fund Gilman for a year with just one benefit concert (at a larger venue of course), but I have never heard of such an offer. And on the other hand, many of the punks and suburban kids who go to the underpriced shows there constantly bad mouth the place for all kinds of misinformed reasons.
In any case, I hope you enjoy this selection of images.
Larry Wolfley